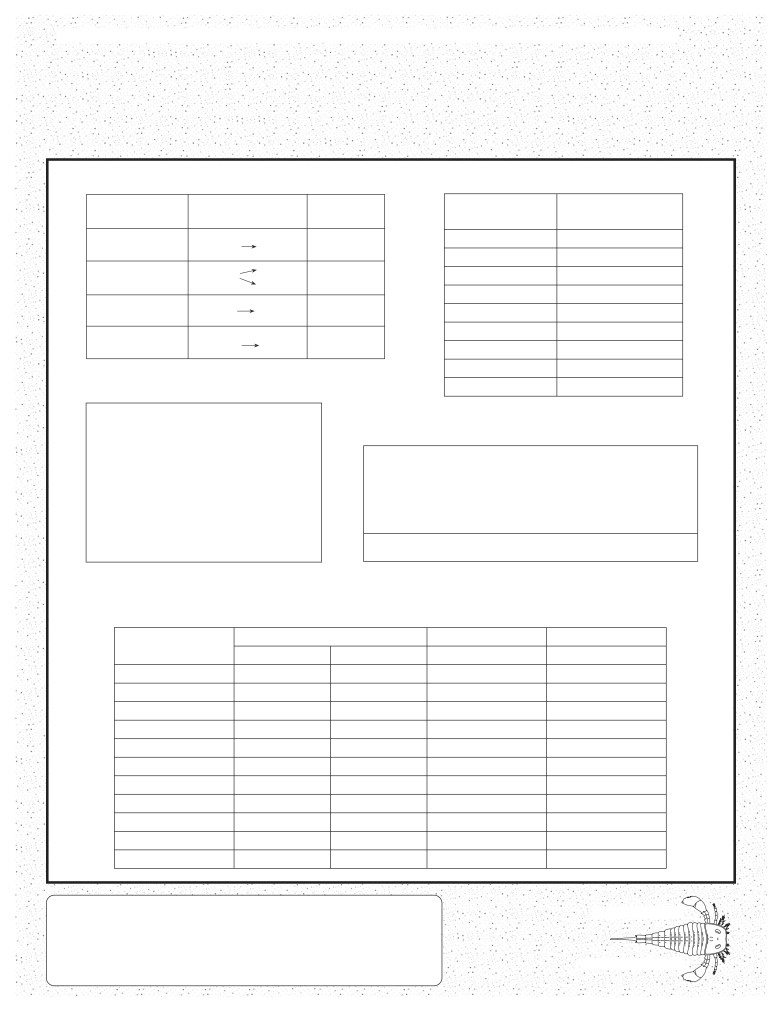 The University of the State of New York • THE STATE EDUCATION DEPARTMENT • Albany, New York 12234 •
www.nysed.gov
Physical Setting/EARTH SCIENCE
Specific Heats of Common Materials
Heat energy gained during melting
Heat energy released during freezing
Heat energy gained during vaporization
Heat energy released during condensation . . . 2260 J/g
Average Chemical Composition
of Earth's Crust, Hydrosphere, and Troposphere
This edition of the Earth Science Reference Tables should be used in the
classroom beginning in the 2011-12 school year. The first examination for
which these tables will be used is the January 2012 Regents Examination in
Physical Setting/Earth Science.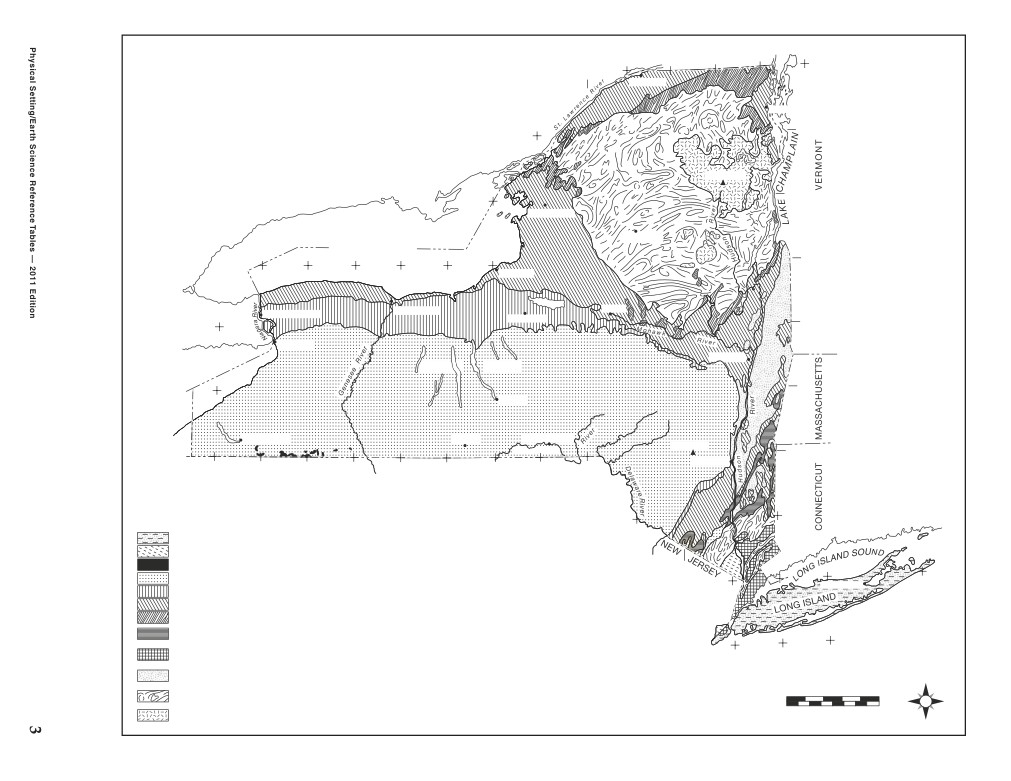 Generalized Bedrock Geology of New York State
GEOLOGIC PERIODS AND ERAS IN NEW YORK
CRETACEOUS and PLEISTOCENE (Epoch) weakly consolidated to unconsolidated gravels, sands, and clays
LATE TRIASSIC and EARLY JURASSIC conglomerates, red sandstones, red shales, basalt, and diabase (Palisades sill)
PENNSYLVANIAN and MISSISSIPPIAN conglomerates, sandstones, and shales
limestones, shales, sandstones, and conglomerates
SILURIAN also contains salt, gypsum, and hematite.
limestones, shales, sandstones, and dolostones
CAMBRIAN and EARLY ORDOVICIAN sandstones and dolostones
moderately to intensely metamorphosed east of the Hudson River
CAMBRIAN and ORDOVICIAN (undifferentiated) quartzites, dolostones, marbles, and schists
intensely metamorphosed; includes portions of the Taconic Sequence and Cortlandt Complex
TACONIC SEQUENCE sandstones, shales, and slates
slightly to intensely metamorphosed rocks of CAMBRIAN through MIDDLE ORDOVICIAN ages
MIDDLE PROTEROZOIC gneisses, quartzites, and marbles
Lines are generalized structure trends.
Intensely metamorphosed rocks
MIDDLE PROTEROZOIC anorthositic rocks
(regional metamorphism about 1,000 m.y.a.)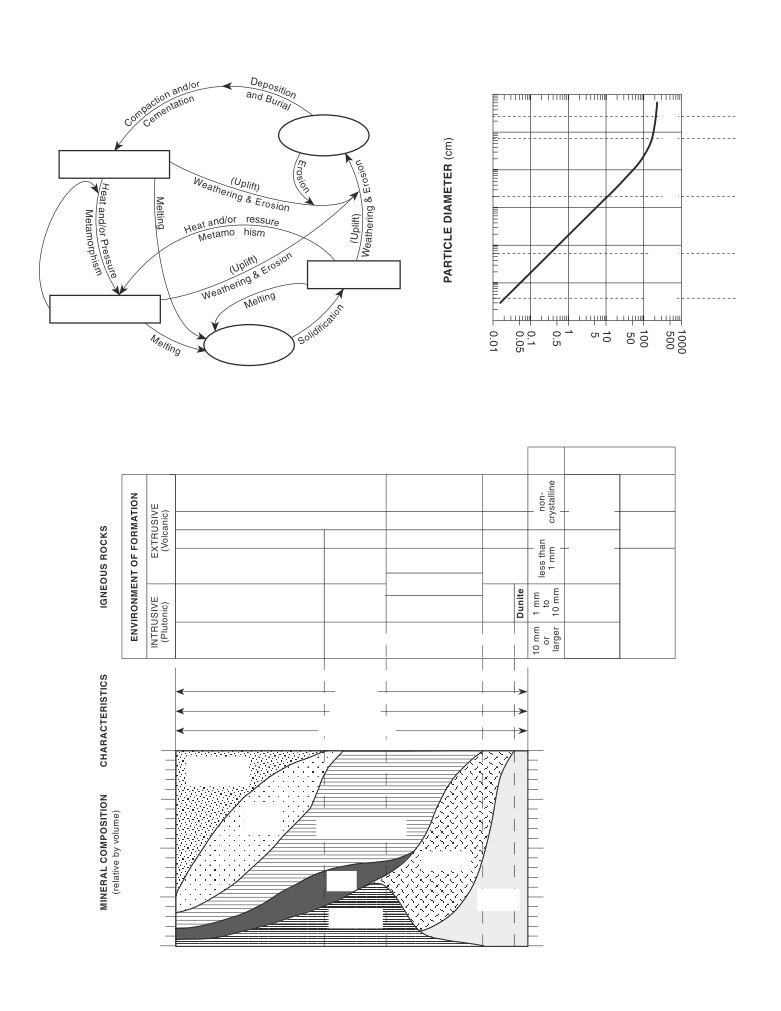 Rock Cycle in Earth's Crust
Relationship of Transported
Particle Size to Water Velocity
This generalized graph shows the water velocity
needed to maintain, but not start, movement. Variations
occur due to differences in particle density and shape.
Scheme for Igneous Rock Identification
Physical Setting/Earth Science Reference Tables — 2011 Edition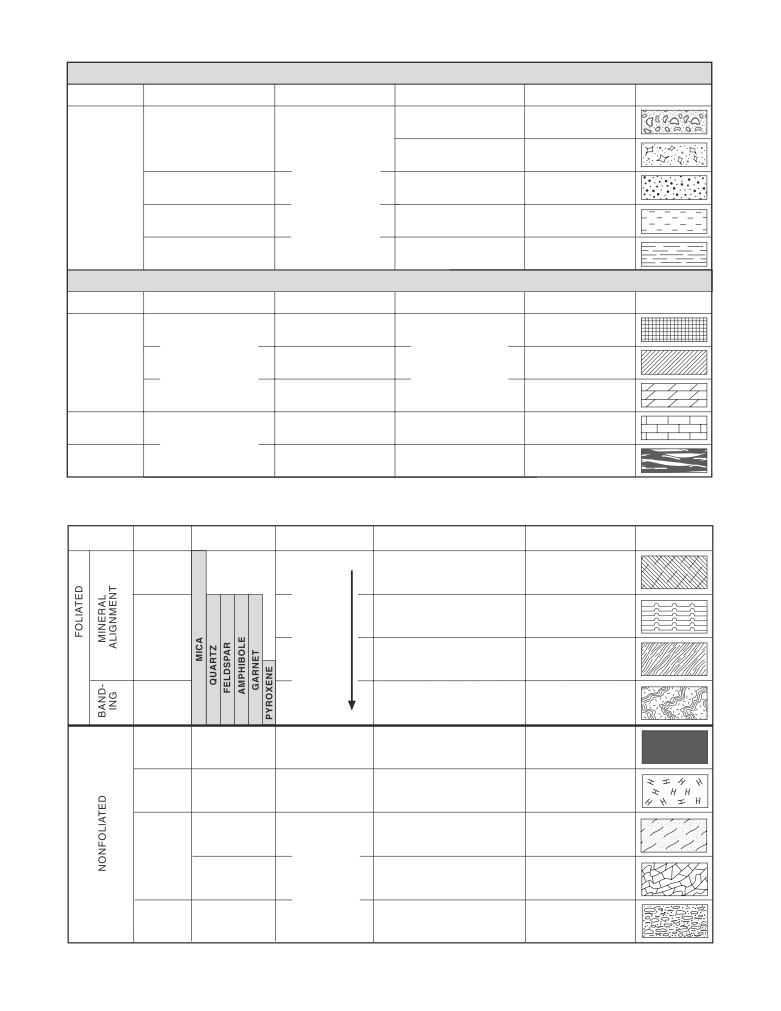 Scheme for Sedimentary Rock Identification
INORGANIC LAND-DERIVED SEDIMENTARY ROCKS
CHEMICALLY AND/OR ORGANICALLY FORMED SEDIMENTARY ROCKS
Scheme for Metamorphic Rock Identification
Platy mica crystals visible
from metamorphism of clay
Physical Setting/Earth Science Reference Tables — 2011 Edition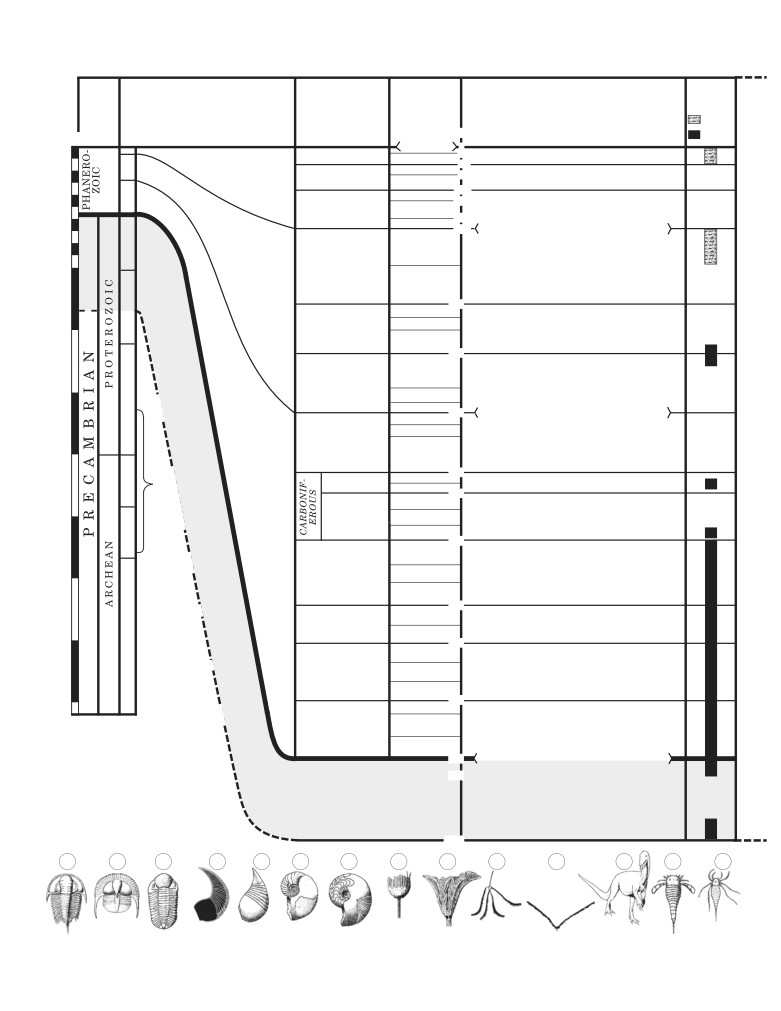 Humans, mastodonts, mammoths
Large carnivorous mammals
Many modern groups of mammals
Mass extinction of dinosaurs, ammonoids, and
Earliest flowering plants
Abundant dinosaurs and ammonoids
Mass extinction of many land and marine
organisms (including trilobites)
Extensive coal-forming forests
Large and numerous scale trees and seed ferns
(vascular plants); earliest reptiles
Earliest amphibians and plant seeds
Extinction of many marine organisms
Earliest ammonoids and sharks
Earliest land plants and animals
Earth's first coral reefs
of Earth and solar system
Burgess shale fauna (diverse soft-bodied organisms)
Extinction of many primitive marine organisms
Great diversity of life-forms with shelly parts
Ediacaran fauna (first multicellular, soft-bodied
(Index fossils not drawn to scale)
Physical Setting/Earth Science Reference Tables — 2011 Edition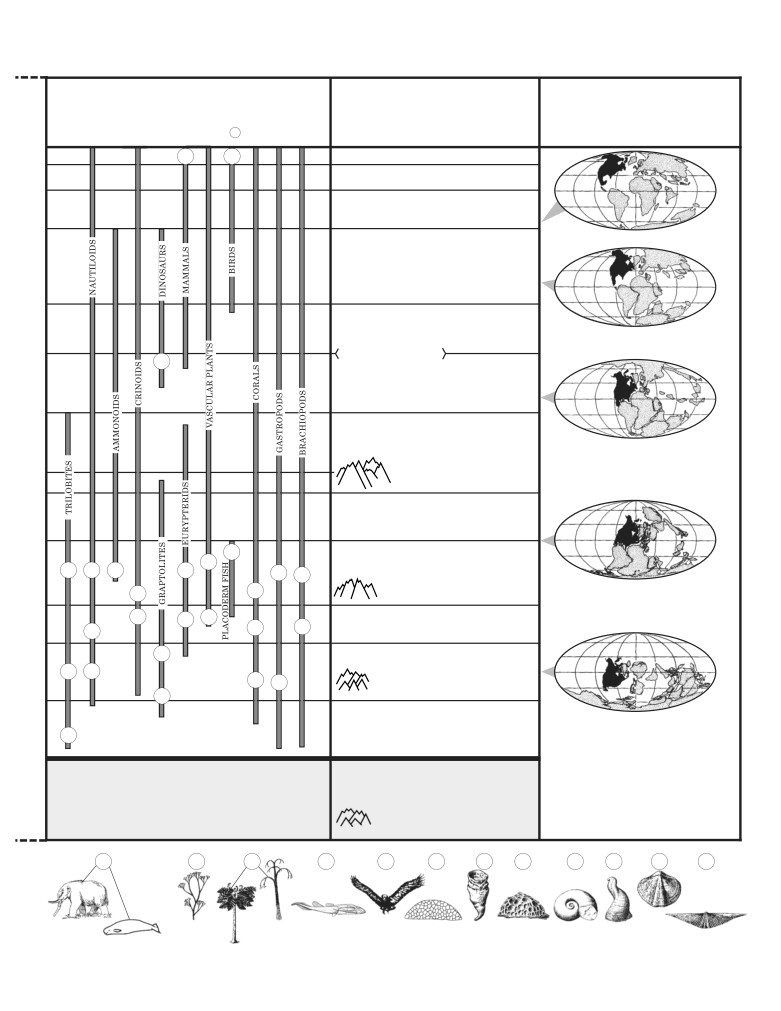 Time Distribution of Fossils
(including important fossils of New York)
The center of each lettered circle indicates the approximate time of
existence of a specific index fossil (e.g. Fossil
Advance and retreat of last continental ice
Sands and clays underlying Long Island and
Staten Island deposited on margin of Atlantic
Dome-like uplift of Adirondack region begins
Initial opening of Atlantic Ocean
North America and Africa separate
Intrusion of Palisades sill
Pangaea begins to break up
Alleghenian orogeny
caused by
collision of North America and
Africa along transform margin,
Erosion of Acadian Mountains
Acadian orogeny
caused by collision of
North America and Avalon and closing
of remaining part of Iapetus Ocean
Salt and gypsum deposited in evaporite basins
Erosion of Taconic Mountains; Queenston delta
Taconian orogeny
caused by closing
of western part of Iapetus Ocean and
collision between North America and
Widespread deposition over most of New York
along edge of Iapetus Ocean
Rifting and initial opening of Iapetus Ocean
Erosion of Grenville Mountains
Grenville orogeny:
metamorphism of
bedrock now exposed in the Adirondacks
Physical Setting/Earth Science Reference Tables — 2011 Edition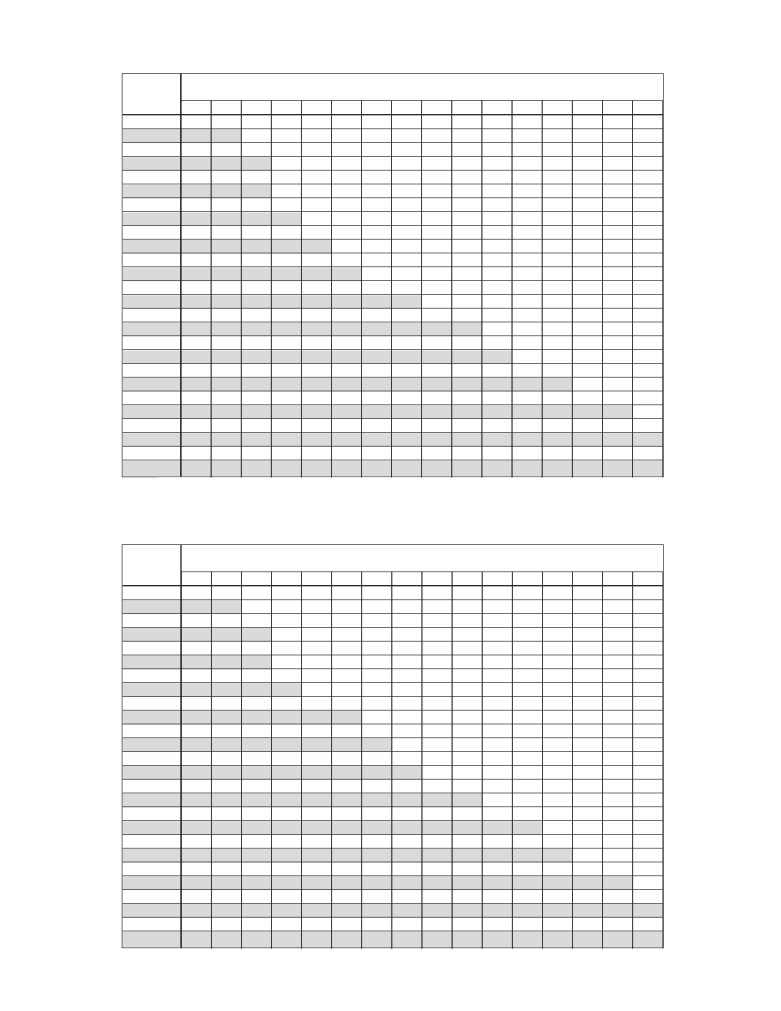 Difference Between Wet-Bulb and Dry-Bulb Temperatures
(C°)
Difference Between Wet-Bulb and Dry-Bulb Temperatures
(C°)
Physical Setting/Earth Science Reference Tables — 2011 Edition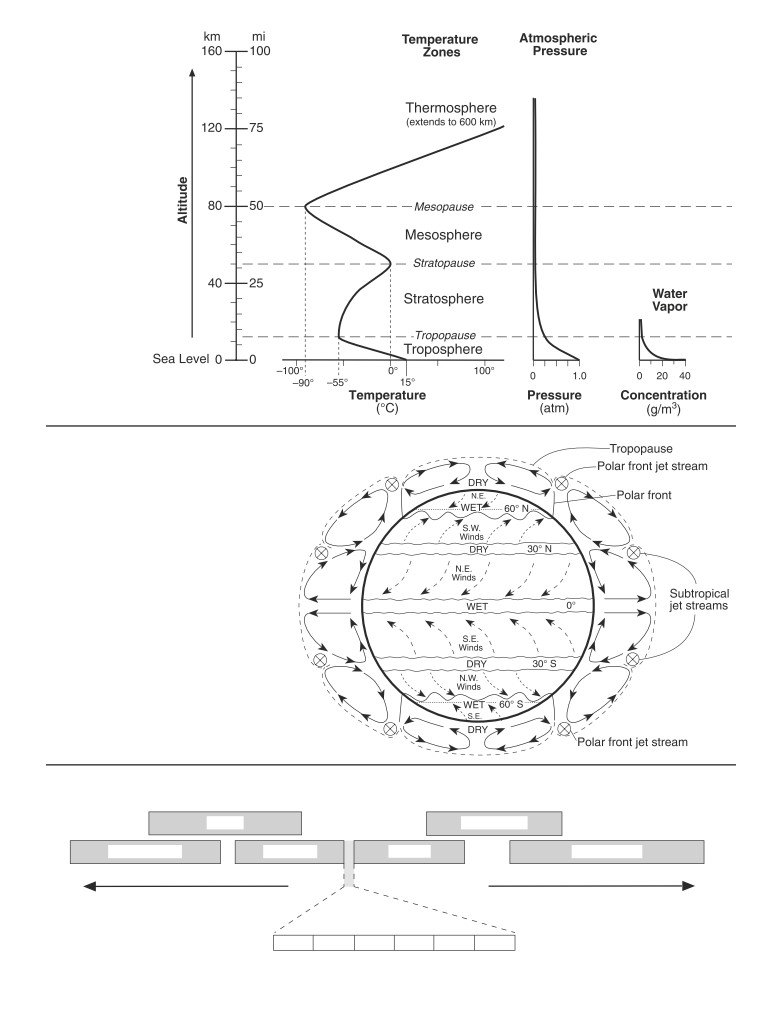 Planetary Wind and Moisture
The drawing on the right shows the
locations of the belts near the time of an
equinox. The locations shift somewhat
with the changing latitude of the Sun's
vertical ray. In the Northern Hemisphere,
the belts shift northward in the summer
and southward in the winter.
Physical Setting/Earth Science Reference Tables — 2011 Edition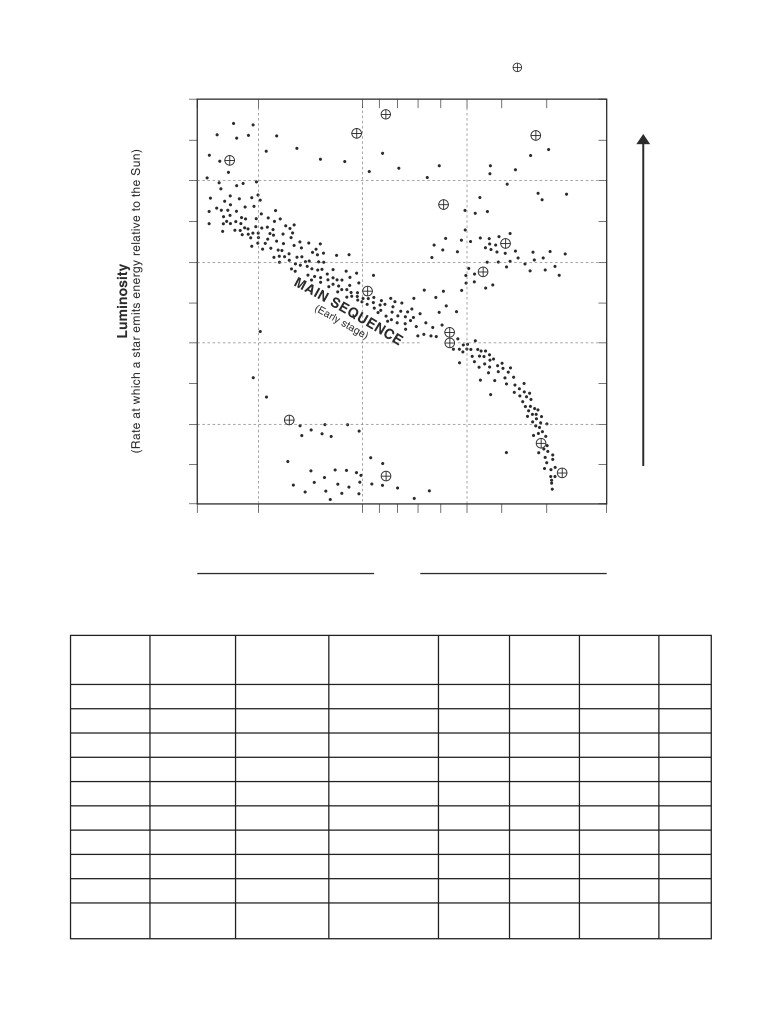 (Name in italics refers to star represented by a
(Stages indicate the general sequence of star development.)
Physical Setting/Earth Science Reference Tables — 2011 Edition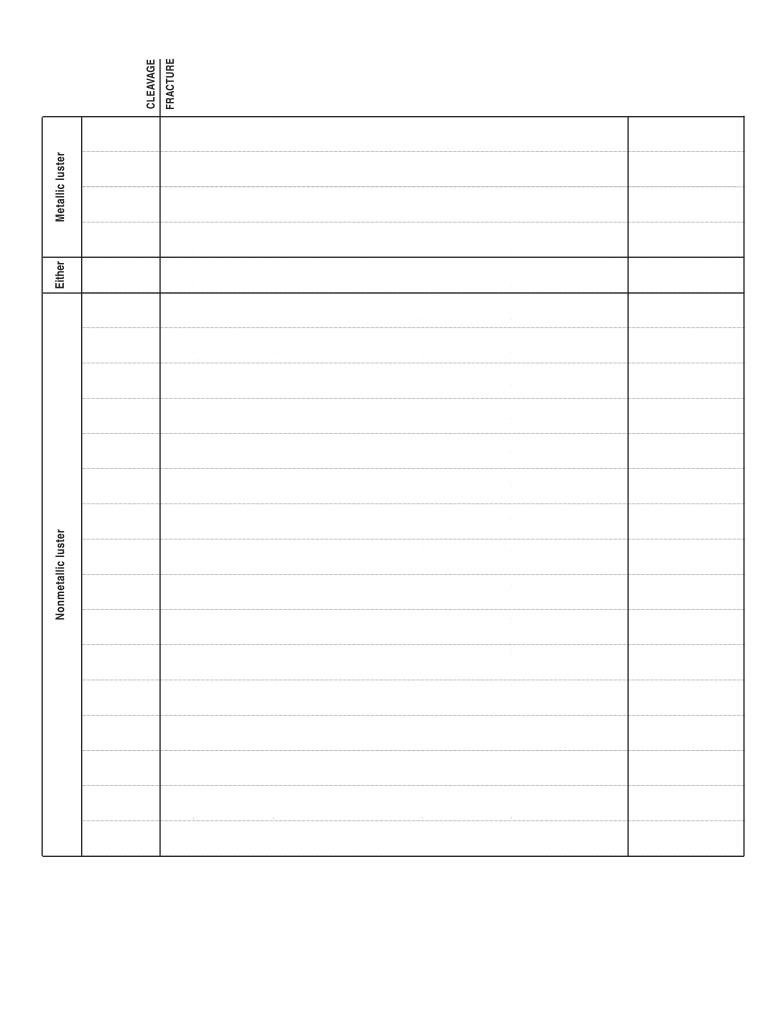 Properties of Common Minerals
gray-black streak, cubic cleavage,
often seen as red glassy grains
✔
= dominant form of breakage
Physical Setting/Earth Science Reference Tables — 2011 Edition